Somewhere in the Marais, you'll see a piano on the sidewalk. That means you are at this wacky restaurant/karaoke/piano bar. Your waiter can and will sing to you. Rabbit in mustard sauce is the best-known specialty. Stick with the chocolate desserts. LG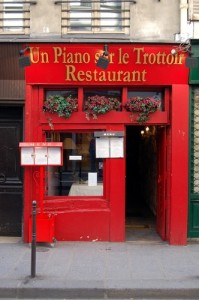 Un Piano sur le trottoir
Map it!
7, rue des Francs-Bourgeois
75004 Paris
Tel: 01.42.77.91.91
Fax: 01.48.87.36.23
Metro: Saint Paul Stop, walk three short blocks north on rue Mahler to rue des Francs-Bourgeois and make a right. Viola!